Toxic company cultures cost the UK economy an eye-watering £23.6 billion a year as proved by our Culture Economy Report, and yet only 40% SME leaders see culture as an essential requirement for business. Needless to say, there's work to be done here.
Your company culture is how you do things in your business. It's how people treat each other, it's the feel of your working environment and it's your values, morales and standards. And it's as important as your business strategy - bad culture can have serious implications on employee performance, productivity, retention, and ultimately financial growth.
Here at Breathe we're incredibly passionate about the importance of fostering a positive company culture, and we've worked hard to do just that for our people.
But it doesn't just stop at the walls of our business; we're on a mission to spread the word further. We're encouraging other SMEs across the UK to not only adopt a healthy culture, but keep it at the forefront of their mind as their business grows, too.
As part of our mission, in 2018 we launched the Breathe Culture Pledge, and this month we celebrated the fantastic milestone of the 300th business jumping on board and pledging to put their people first.
What is the Breathe Culture Pledge?
The Breathe Culture Pledge is a commitment that employers can make towards prioritising their company culture for the benefit of their people and is an act of recognising the importance of a strong culture in relation to business growth.
By signing up, employers receive their very own Pledge Pack which includes an abundance of useful goodies to help them shout about their good news. These vary from their very own Pledge certificate to display in the workplace to pre-written social media posts and top blog-writing tips from our very own content team. Each resource is accompanied by helpful tips on how to use it, and a helpful checklist is also included in the pack to guide each business through their exciting Pledge campaign.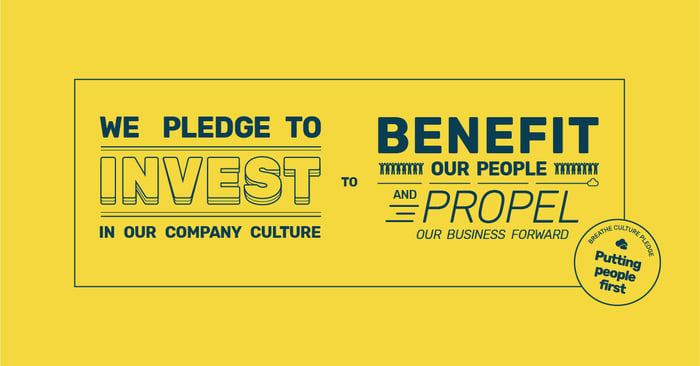 Why join us?
So why should you join the Pledge? Often, the reasoning behind signing the Pledge is unique to a business, and depends on the story, company values or any challenges they may be facing internally. But, there are 5 great positives that any business can benefit from:
Supercharge employee performance

Gain your employees' trust

Boost your finances

Create employee ambassadors

Attract the best talent
You can read more about the fantastic benefits of signing the Pledge here.
Businesses on board
Now 300 strong, we've got some really incredible businesses on board who have invested in their company culture and signed the Pledge.
Here's what some of them have said about why they chose to join us on our mission:
"We love our team and want to encourage all employees to be happy, healthy and fully engaged at work."
– Pepper Communications Ltd
"The pledge emphasises our purpose of putting people first."
– Beyond M&A
"I strongly believe having a great culture leads directly to better business results."
– Momenta People Limited
"We want to build an engaged workforce who are empowered and proud to work here."
– Paul Fabrication Ltd
"As a new company we would like to encourage a positive culture from the start"
– Osprey Flight Solutions
"Our employees are fundamental to the success of our business."
– Solution IP Limited
Whether you're looking to turn your culture around or you feel you've already nailed it, taking the Culture Pledge is a great way to show your commitment towards your people and join a community of businesses who take company culture seriously just like you.
Take the Pledge in just a few clicks (for free) and join our community today.
Back to blog