Building a simple and easy to use HR software is at the core of what we do at breathe every single day. And, after working on creating breathe for over six years, we realised it was time to take a step back and really consider if everything was as simple and easy to use as it should be. We decided that it wasn't.
From this exercise we found that all of the functionality (with the exception of one part) within breathe hit the mark for being simple and user friendly. However, how the application looked and how users navigated from one screen to another was becoming complicated. The design of breathe made simple functionality appear complicated, and that was something we knew needed to change.
This revelation was so valuable to us. Although we hadn't quite met our goal to keep the system simple and easy to use in every aspect, we'd definitely gone a really long way to staying true to how we wanted to deliver breathe to our customers. And, after six years of development and growth, it was fantastic that we'd been getting the majority right.
Updating breathe's user interface
Updating how breathe looked would be a huge project, and the first that I would undertake as breathe's Product Manager, so I thought I would share with you exactly how we did it and the rationale behind our changes.
Setting goals
We began by creating four top line goals that we wanted to achieve:
Make breathe simple and easy to use in every aspect

Make breathe consistent

Make breathe completely mobile responsive

Deliver the project in 7 months
Achieving our goals
Here is how, I believe, we achieved each of those goals.
1. Make breathe simple and easy to use
As breathe has grown we've hired more developers and had more people working on the system than ever before. And, understandably, as each person has built new functionality, breathe has got bigger and bigger. So, we were on a mission to ensure everything was as simple and easy to use as possible.
The perfect example of an area that we have simplified is our settings area. The settings list had become a long list of options that was difficult to navigate. Our mission was to reduce the list and ensure the options were in a logical place and order. This is probably one of my favourite changes that we have made - you can see from the screenshot below that the settings menu is now clear, clean and concise.
2. Make breathe consistent
The design of breathe was lacking in consistency. And this was becoming a barrier to the system being easy to use so we knew we had to address it. But, in order to do this, we had to remove a feature in breathe - Mailmerge - as it couldn't be rebuilt to fit with the new designs.
After some research we found that just 1% of our customer base were using this area and it was agreed that rather than spending time rebuilding the feature, we would remove it.

3. Make breathe completely mobile responsive
By making the decision to make breathe mobile responsive we immediately made our mobile app redundant. We wanted to offer our customers the same up to date experience whether they are using breathe on a desktop, tablet or mobile device, and continuing with our mobile app wouldn't be in-line with this. Therefore, we chose to remove both our Android and IOS app from both stores when we released the project.
And, whilst we lost the mobile app, making the system fully mobile responsive allowed us to make some changes we otherwise wouldn't have. This includes our new mobile calendar.
One of our bigger pieces of work, the mobile calendar, shows when an event is occurring by highlighting that particular date. It also highlights the date in a different colour if there's an event on that day specific to the user viewing the calendar. We have also included additional functionality to enable mobile users to access employee records through the calendar.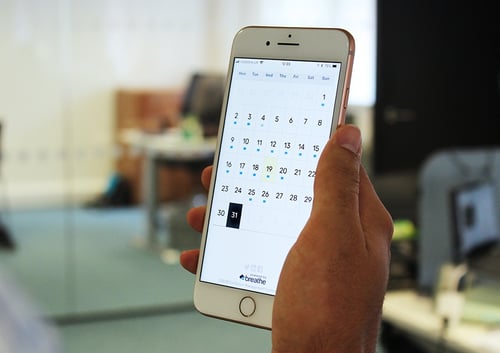 4. Deliver the project in 7 months
This was an ambitious time frame, but we're pleased to say that we managed to deliver the project to our customers a month ahead of schedule. The work that our developers put into achieving these goals is unprecedented. Here are some key stats for you:
They changed 1,707 files
There were 3,298 commits
They added 44,632 lines of code
They removed 72,681 lines of code
And, fun fact: the amount of code that was written equates to 2 copies of Harry Potter and The Order of the Phoenix!
Why not take a look at breathe's new user interface update now by taking out a free 14 day trial.
Back to blog